Raising capital internationally, Shire Oak International, a British energy company, bets on energy transition needs in Vietnam with a rooftop solar PV development.
On November 18, 2021, Shire Oak International (SOI) signed a strategic cooperation agreement with Hoa Binh Infrastructure Construction Investment Joint Stock Company (HBI) and Hoa Binh Renewable Energy & Investment (HRE) to develop 42MW rooftop solar power project in Hoa Binh Long An industrial park. This project is one of the largest projects implemented in Vietnam so far.
Since 2017, when the policy to accelerate the development of renewable energy was issued, hundreds of investors have jumped into the field of solar power, making Vietnam one of the fastest-growing countries in the world. Unlike most investors who build large-scale solar farms, SOI cooperates with businesses, invests money in building rooftop solar power systems, and then sells electricity at a lower price compared to the Electricity of Vietnam (EVN).
"Vietnam is in a privileged position that nature bestows. This is the most naturally endowed country I can imagine for renewable energy," said Mark Shorrock, founder and chief executive officer of SOI.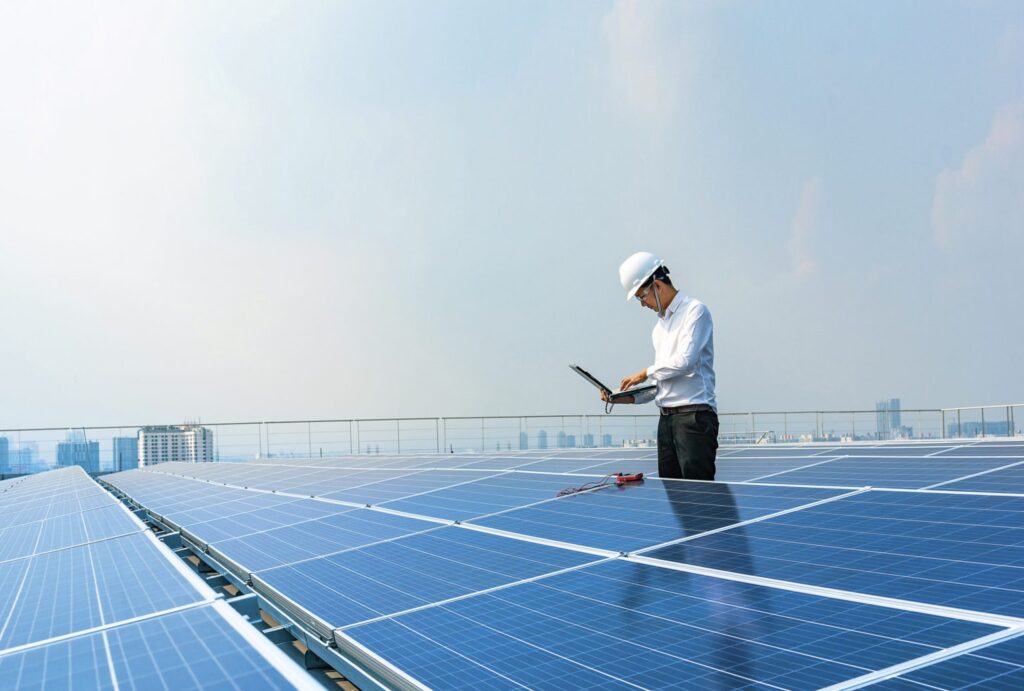 "I think after China and India, Vietnam is an important country in the world in terms of climate change." After three years in Vietnam, SOI is operating 64MW of rooftop solar power, belonging to the group of large-scale rooftop solar developers in the market. Mark said SOI has US$140 million into the Vietnamese market as a source of capital mobilized from international investors. The company is also in discussions with investors who plan to pour an additional $240 million shortly to build hundreds of other rooftop solar power projects.
There are two models of solar power development. Firstly, solar power farms are built on a large scale with a capacity of several tens to several hundred megawatts. Secondly, the roof voltage model is placed on the roofs of factories of enterprises with a scale of about 1-5MW.
Rooftop solar power is a type of electricity supply that is easy to install, quick and convenient because the cost of panels is decreasing sharply over time. This type of electricity is also useful in places where there is no electricity grid or taking advantage of the roof area, especially in factories and industrial zones to be partially self-sufficient in energy, reducing electricity costs and reducing inflation. carbon emissions.
Mark Shorrock, 51 years old, British says his company can sell electricity from rooftop solar power to corporate customers with a discount of up to 25%-32% to customers in the South, where the radiation is high. The sun is high and uniform throughout the year, the corresponding figure in the North is 5%-17% and the Central region is 17%-25%.
In just two weeks, he said, in time for the 2021 United Nations climate change summit (COP26), he had five phone conversations with international investors about the opportunity.
According to EVN, the total potential of rooftop solar power nationwide is up to 48GW, of which in the southern region is 22GW. In 2020, with nearly 7GW of solar power installed, Vietnam has the seventh-largest solar power scale in the world in terms of capacity.
When he came to Vietnam to invest in 2018, Mark once thought that he just needed to knock on the door and tell the business that SOI wanted to install a rooftop solar power system for free for customers and customers could buy electricity at a cheaper price. the state, the guest will agree immediately. After a presentation to leaders of 62 companies in Vietnam located in the supply chains of many large enterprises in the world, only six companies expressed their interest in learning, and in the end, only two companies were interested.
But now the wind is turning. Commodity suppliers are gradually being forced to meet green certification requirements from importers and distributors if they want to bring their products to developed markets such as the United States or Europe.
To reduce the greenhouse effect, limit carbon emissions, the trend of responsible consumers around the world is starting to say no to products made from fossil energy and they are creating a lot of pressure on brands. and government. "I will be meeting with three Apple suppliers next week," Mark told Forbes Vietnam at the company's office in Thu Duc City (HCMC). "Whether they agree to install rooftop solar power is unknown, but if it were a year ago they would not have met us."
Market demand has increased, so investors are willing to pour capital for SOI now also increase. Mark said the amount of capital he can access now compared to a year ago is "huge".
During three years of operation in Vietnam, SOI has had several large customers such as Lavifood's Tanifood factory in Tay Ninh, a business processing agricultural products, vegetables, and fruits with a system of 5.1MW. Another name is Cam Nguyen Group, an enterprise operating in the field of steel pipe production and trading, factory leasing, port services, and SOI to develop a 4.5MW project at a factory in Long An.
In addition to adding a green tick to the list of environmental standards that need to be met to export to international markets, solar power also helps businesses operate economically. For example, according to SOI's calculations, a factory with 1MW rooftop solar power installation can save business owners 120 million dongs per month. Before coming to Vietnam, Mark was known in the field. renewable energy development in many countries. He has been involved in the energy sector since 2002, an unexpected turn. Before that, he was a filmmaker known for such works as Ever After A Cinderella Story (1998), The Man Who Knew Too Little (1997), and Tabloid (2001). He has lived in many parts of the world, worked as a journalist, tour guide, adventure guide… "I want to make a difference, and when I make movies, I don't make a difference," said Mark, though a T-shirt with the words "This is rubbish," told Forbes Vietnam. He was fascinated by movies about climate change, books on climate, the environment, and decided to move into the world of environmental venture money the day he read about the news. The world's largest wind power project is built in Scotland. Four friends who are also active in the film industry became funders of his first renewable energy project in Scotland. "Every kind of business in the world is easier than making a movie," commented Mark.
In 2012, Mark founded Shire Oak Energy. In 2018, he founded Shire Oak International, an international developer, and financier for renewable energy solutions, with a focus on the Asian market, including Vietnam, with plans to build 2.1GW Solar. "The most drastic change in the last two years is that there is a lot of money pouring into countries like Vietnam to make the energy shift, no money to invest in coal and gas," he said.SOI works operate with two business segments: roof rental, installation, power generation, sale of electricity to the grid, and sale of excess power from one plant to another. The weights of the two arrays are relatively equal. With the current policy of restricting the sale of electricity to the grid, they focus on factories that need to install them for internal use. The solar power market is cooling down due to uncertainty about the policy development from the center. The central bank makes investors more careful with their pockets. The draft Power Master Plan VIII shows that Vietnam plans to develop coal power capacity to 37 GW by 2030, down from 75.7 GW compared to the 2011 Power Plan VII. Reality shows that "policy is unpredictable. The market is unpredictable," said Pham Nam Phong, chairman of Vu Phong Energy Group. Vu Phong is one of the companies that construct solar power projects for SOI, besides providing maintenance services.
"I don't worry about the market slowing down," says Mark. Vietnam is piloting a direct power purchase agreement (DPPA), which allows industrial producers (at voltage level 22kV and above) to buy electricity directly from a renewable energy supplier. This agreement opens the way for many manufacturers to transition to renewable energy.
"Vietnam is related to major manufacturers in the world, greening is a must for businesses," said Mark. Vietnam's renewable energy market still has a lot of room for development. The good news is that they have just won a bid for a 78MW project for Adidas' manufacturer in Vietnam. "The great thing is that there was a push from Adidas," said Mark.