On October 15th, 2020, Tanifood held a groundbreaking ceremony for the rooftop solar projects on top of their factory in Gò Dầu District, Tây Ninh Province. The ceremony was organized with the participation of representatives of the following:
The owner's representatives:
Dinh Hung Dung – Deputy General Director of Tanifood
Do Trung Thien – Project Director of Tanifood
Vo Anh Hoang – M&E Specialist of Tanifood
Lai Hoang Bao Tran – Head of Maintenance Department of Tanifood
Truong Van Nhan – Head of IT Department of Tanifood
The investor's representatives:
Simon Nias – SEA Development Director
Vu Thi Thanh Van – Sales Director
Che Thi Thu Hang – Media and Events Department
The project EPC contractor's representatives:
Huynh Ngoc Duc – General Director of SPOWER INVESTMENT JSC
Le Viet Anh Thang – Deputy General Director of SPOWER INVESTMENT JSC
Pham Dieu – Deputy General Director of SPOWER INVESTMENT JSC
The British Consulate in Vietnam's representative:
Vuong An – Head of Trade of British Consulate in Vietnam
Lavifood is an experienced enterprise specializing in preliminarily processing, manufacturing, and processing of high-quality Vietnamese fruits, vegetables, and agricultural products for the global market. Lavifood's products are certified by global quality evaluation organizations, such as ISO 22000, HACCP, BRC (Bureau Veritas), Halal, and Kosher. With the motto "The First. The Best. The Unique.", Lavifood has built and operated on the basis of the agricultural value chain, in which farmers, cooperatives, and other organizations participating in the Value Chain are entitled to benefits worthy of their contribution.
Lavifood operates with high awareness of its impact on the environment. They are the first company in Vietnam to operate a factory that meets international standards in energy conservation and environmental protection, namely LEED SILVER. The 5 MW rooftop solar project, funded by SOI and developed by S Power, is their latest effort put into sustainable development.
According to Mr. Đinh Hùng Dũng, Deputy General Director of Tanifood, with the RTS system on board, the business is going to apply for the LEED GOLD certificate.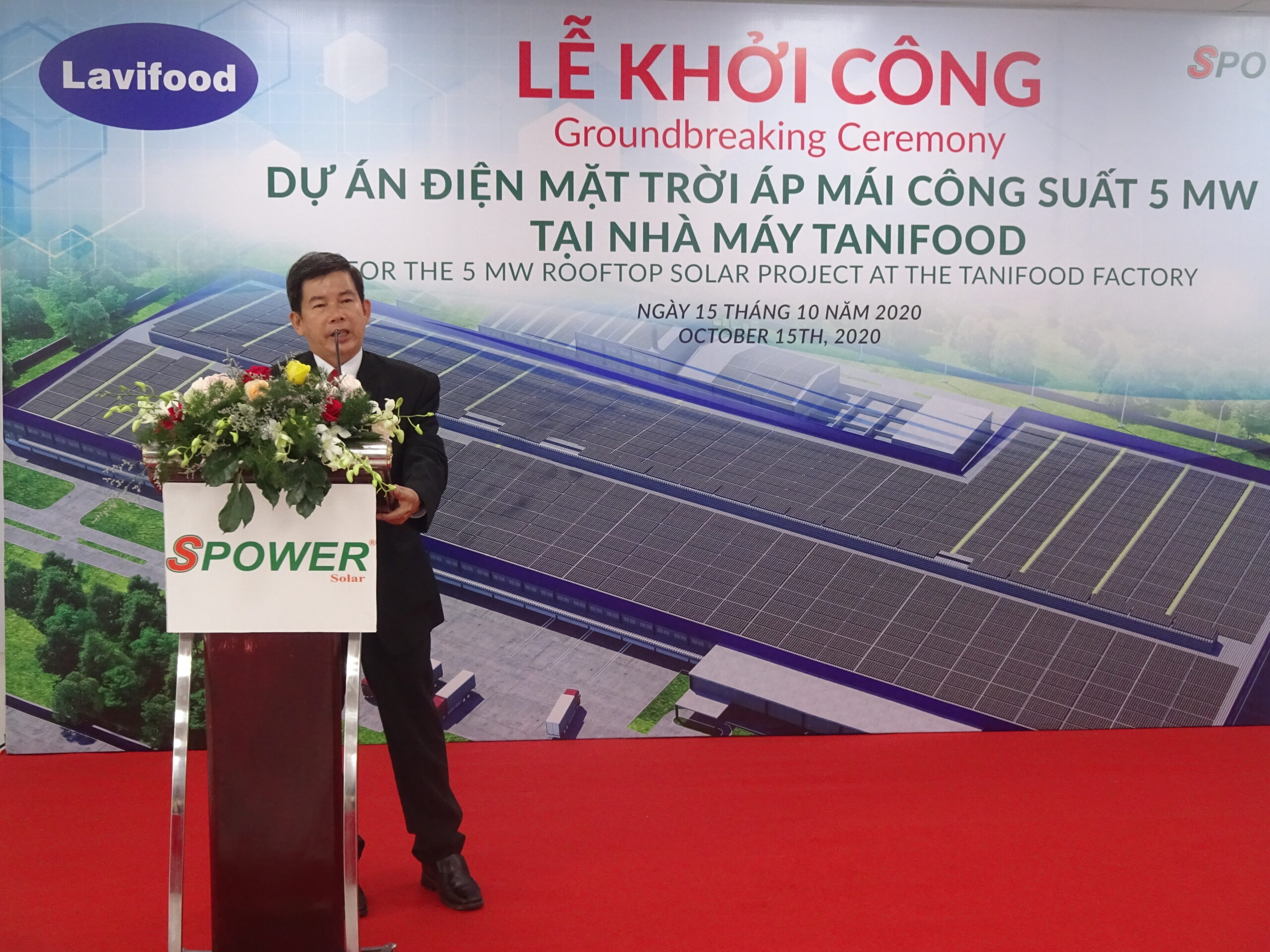 Mr. Simon Nias, SEA Development Director of Shire Oak International, wrapped up the ceremony with the vast benefits that the system is going to bring to Tanifood.
"It [the rooftop solar system] is not only beneficial to Tanifood but also allows Shire Oak and our EPC partner to showcase our expertise and promote solar development in Vietnam as a whole. I hope other businesses will also realize this fact and consider sourcing power from a clean source like rooftop solar", he added.