HWASEUNG Enterprise is putting actions behind their ambitious commitment to the UNFCCC fashion charter of 50% absolute carbon emission reduction by 2030, by signing their first series of Solar Rooftop PPAs in Vietnam.
HWASEUNG Enterprise is a Korean headquartered industry-leading footwear, headwear, apparel, and textile manufacturer with operations in Vietnam, Indonesia, and China. As a key supplier to multiple global brands, Hwaseung appreciates the value of sustainability because global manufacturing is such an important element of their business. "We promise to take the lead in preserving the global environment by striving to change our mindset. Solar PV systems play a vital part", says Michael Allicino, COO at Hwaseung Enterprises.
Hwaseung has partnered with Shire Oak International to install and operate the first 4 PV plants, generating 18 GWh/year. Founded in 2002, Shire Oak International is a UK-leading renewable energy investor and developer. Its primary mission is to be a global pathfinder for devising, implementing, and scaling renewable energy solutions to support transformational changes in the adoption of renewable energy. As a result of this groundbreaking initiative, HWASEUNG Enterprises will reduce its total emissions by 20% in these facilities. The four PPAs are just the beginning of an extensive plan to install Solar Rooftop PV across all existing and new facilities operated by HWASEUNG Enterprise around the globe in the near future.
Mark Shorrock, Shire Oak lnternational's CEO, added: "Rooftop solar is a quick and effective first step solution for global manufacturers operating in coal intense countries. The carbon intensity here in  Vietnam is four times the carbon intensity of our home country, the UK. By switching to solar power, Hwaseung is having an incredibly positive impact. It is great to see the global tier ls start to adopt solar power."
The initiative and partnership builds on Hwaseung's pledge to contribute to Decarbonization by reducing the use of fossil fuels in power generation through harnessing renewable energy sources. Solar Rooftop PV is only one of Hwaseung's many Decarbonization initiatives around the world. In addition, the company is implementing a comprehensive energy efficiency program across its +25 facilities,  participating in off-site PPA programs, transitioning from coal and gas to low-carbon alternatives, and building new factories and facilities in accordance with green building standard LEED.
"When we can reduce climate impact while saving long-term operational costs, it's an easy business decision. At the same time, we contribute in a meaningful way to the development of renewable energy in Asia", says Hwaseung's Strategic Advisor Hugh Hamill. Falling on the anniversary of its commitment to the UNFCCC Fashion Charter for Climate Action, Hwaseung's transition from low carbon ambition to implementation of solutions is setting strong precedence for sustainability leadership within the footwear,  headwear, apparel, and textile supply chain.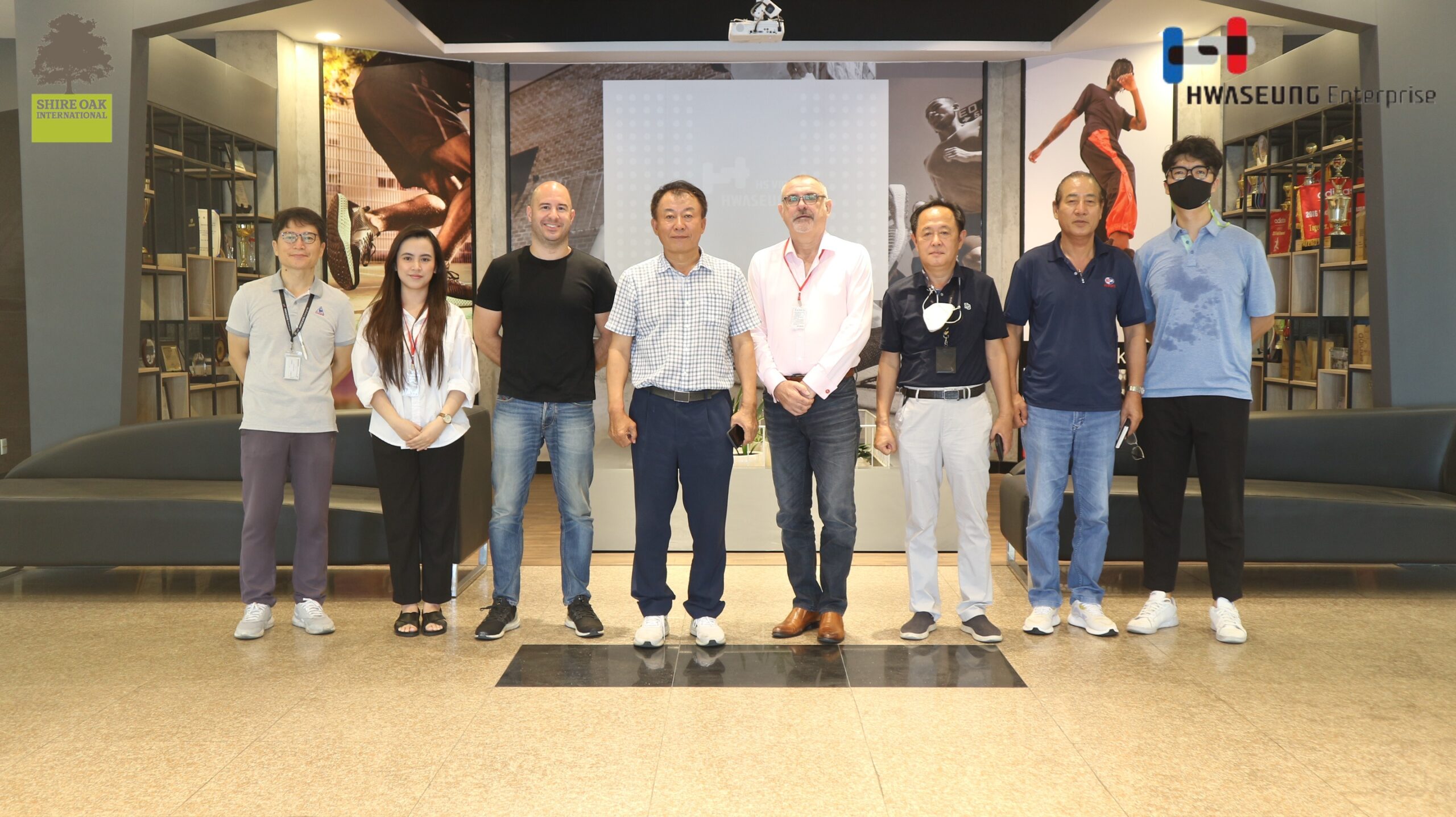 About HWASEUNG Enterprise
HWASEUNG Enterprise is a leading Global manufacturer offering a complete head to toe proposition producing Athletic Footwear, Headwear, Apparel and Textiles . Its primary manufacturing & operations footprint span Vietnam, Indonesia and China. The Enterprise produces for Brands such as adidas, Nike, Lacoste, allbirds, Hoka and Fanatics among others.
About Shire Oak International
Shire Oak International is a division of Shire Oak Energy, a UK developer of tidal power and solar power. Founder Mark Shorrock is a highly experienced renewable energy investor and developer, having established pioneering companies Wind Energy and Low Carbon in the UK. The Shire Oak team boasts a combined track record of over 1,000 MWp of solar energy delivered to date, including, at the time, the UK's largest solar farm at West Raynham Airfield.
Shire Oak International is currently developing just over 3,600MW of projects across the Middle East, South East Asia, Southern Africa, and Latin America, delivering utility-scale field and rooftop solar.
In 2021, Shire Oak International received a joint investment of USD 120 million by Climate Investor One and Norwegian Investment Fund, Norfund to build 200 MWp of rooftop solar power projects. Over the next two years, the target growth portfolio will expand up to 500 MWp in Southeast Asia, particularly in Indonesia and Vietnam.
Contacts
Shire Oak International
Son Bui, Director of Marketing & PR
+84 909300803