The energy transition is larger and quicker in Indonesia. During COP26, Indonesia Government commits to retire 5.5 GW of the coal plant and add an additional 4.7 GW of solar capacity by 2030. Leaders in Jakarta have outlined a goal of reaching 23% renewable energy by 2025. One of the initiatives to implement this goal is the enaction of regulation number 26th by the minister of energy and mineral resources on January 21st.
With such support from the Government, the Indonesian renewable market is very attractive, but some hurdles remain. Its growth opportunities, challenges, and market outlook are discussed at Indonesia Solar Week 2022 organized by SolarQuarter on February 10th, 2022. At this event, Shire Oak International representative, Ms. Kate Covill acted as a moderator in a panel discussion with top solar leaders in Indonesia.
Indonesia utility-scale market
According to Mr. Tony Susandy, coordinator of Program Planning, Directorate of Various New Energy and Renewable Energy, there are many large-scale utility projects in Indonesia. The most notable of which is the Cirata Floating Solar Photovoltaic plant with a capacity of 145 MW. There is also a 60 MW ground-mounted project in Kupang (Indonesia). According to Mordor Intelligence, the Indonesian renewable energy market is expected to have an installed capacity of 34.71 GW by 2027, up from 10.82 GW in 2021.
The utility sector is driven ahead by many incentives, which makes the renewable energy industry in Indonesia more attractive to foreign investors as Mr. Kanaka Arifcandang Winoto, Senior Business Development Manager, Mainstream Renewable Power listed. The first one is tax allowance. Developers get almost 30% of their tax allowance from the investment cost. The second one is a 0% tax on imported goods. The third one is a tax holiday of 100% if the investment is above 500 million IDR and 50% below that.
Advice to the Government
Though there are attractive incentives, hurdles remain for stakeholders in the renewable market to support and advise the Government.
From the EPC point of view, Mr. Fendi Liem, Founder & CEO of SEDAYU Solar shared that they are expecting the government to shorten the development time for utility because normally, it takes three to four months to develop the Power Purchase Agreement and another six months for construction and grid connection. Such a lengthy process is a big turn-off for developers.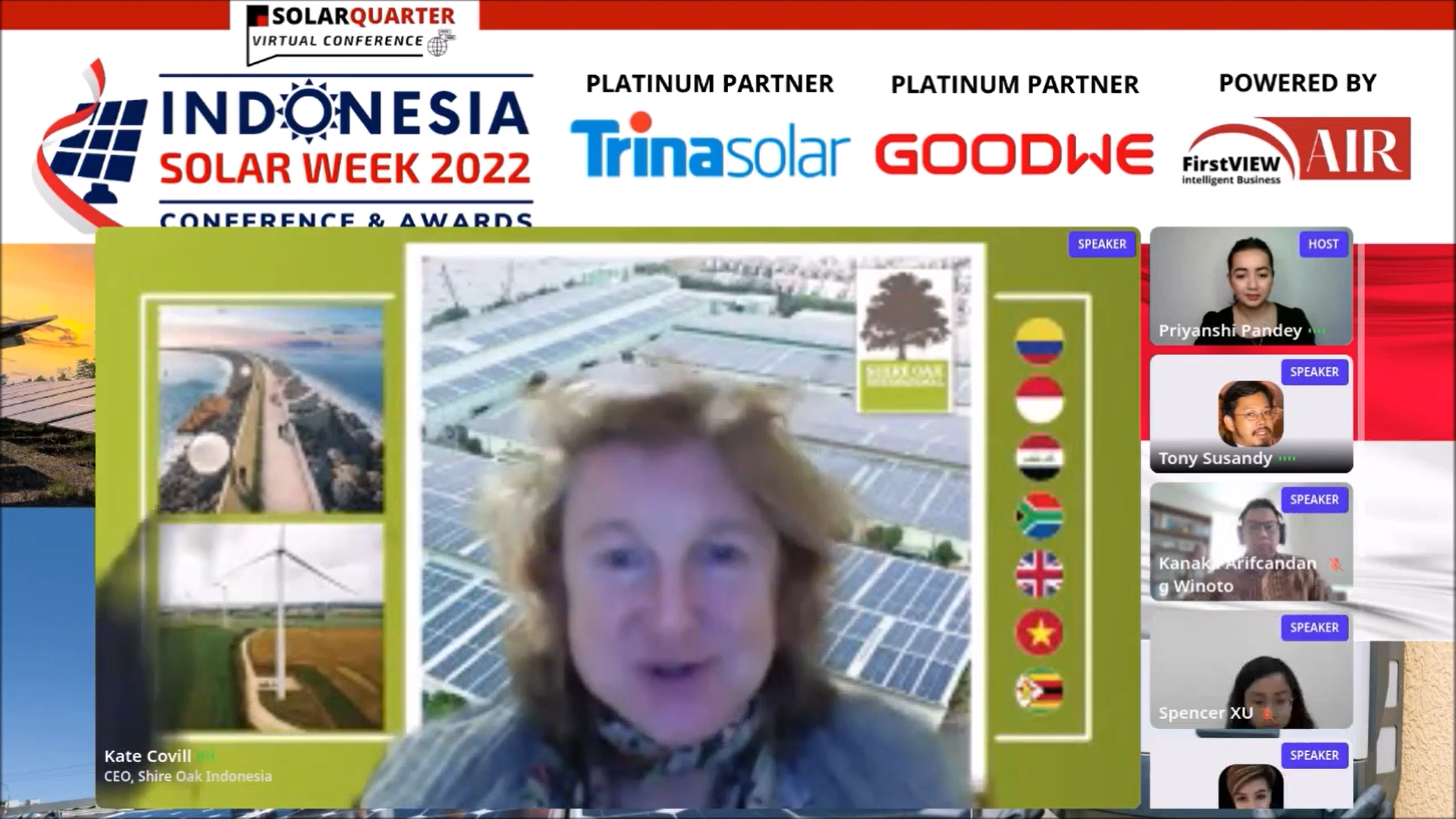 Besides, it would be better if all stakeholders in the solar industry could understand the grid capacity to operate simultaneously. Ms. Kate Covill assumed that the state-owned electric utility PT Perusahaan Listrik Negara (PLN) would indicate the substation capacity within the tender so that developers such as Shire Oak International know what is available and what scale they can develop.
Indonesia and Vietnam renewable market comparison
Indonesia and Vietnam Governments are both comply with the climate agreements and use policy tools to encourage the transition to renewable energy. In Indonesia, a draft regulation was recently passed that specifies that renewable energy should contribute 23% of total energy use by 2025. In Vietnam, the power development plan VIII is being revised and will serve as a basis for future power development in Vietnam.
Regarding the support for Independent Power Producers (IPPs), the feed-in-tariff regime is currently used in Indonesia. Energy generated from the renewable energy sources from IPPs will be purchased by PLN. However, some consider this feed-in-tariff insufficiently attractive regarding the inflation rate. Such support for IPPs in Vietnam is the direct power purchase agreement pilot program allowing customers to buy electricity directly from renewable energy producers. The feed-in tariffs for solar and wind projects expired respectively in 2020 and 2021 and have not been extended.
The Governments in Indonesia and Vietnam are decisive for accelerating the transition to renewable energy. These two countries are having full potential for renewable energy, but the regulatory framework remains unstable.
In sum
In Indonesia, the acceleration of energy transformation has become the Government's commitment. This country is predicted to be the 6th biggest economy in the world by 2040. Indonesia's target is to reduce fossil fuels by 25% by 2025  and achieve net-zero emissions by 2040 – 2050. Incentives are introduced to make the Indonesian solar industry attractive to investors. These factors are what drive the utility sector ahead. However, to turn the ambitious target into reality, a consensus from the Government to all stakeholders in the solar industry is needed because long-term and sustainable change can only happen through policy.
Regulation number 26 is driving the rooftop sector ahead
The rooftop sector is driven ahead by regulation number 26 (2021), which is the regulation for the export of electricity. In detail, the most important provisions of Regulation Number 26 of 2021 are:
1. The electricity export is increased from 65 percent to 100 percent;
2. Accumulated gap in claims is eliminated, extended from 3 months to 6 months;
3. The application period for Rooftop Solar Power Plants is shorter (5 days without an adjustment to the Electricity Purchase Agreement (PJBL) and 12 days with an adjustment to the PJBL);
4. Application-based service mechanism for the convenience of submitting applications, as well as reporting and supervising the Rooftop Solar Power Plants program;
5. Carbon trading opportunities from the Rooftop Solar Power Plants;
6. Availability of the Rooftop Solar Power Plants Complaint Center to receive complaints from Rooftop Solar Power Plants customers or business license holders; and
7. Expansion of regulation not only for customers of the state electricity company PLN but also for customers in non-PLN Business Areas (Business license holders).