It is necessary to issue policies to encourage businesses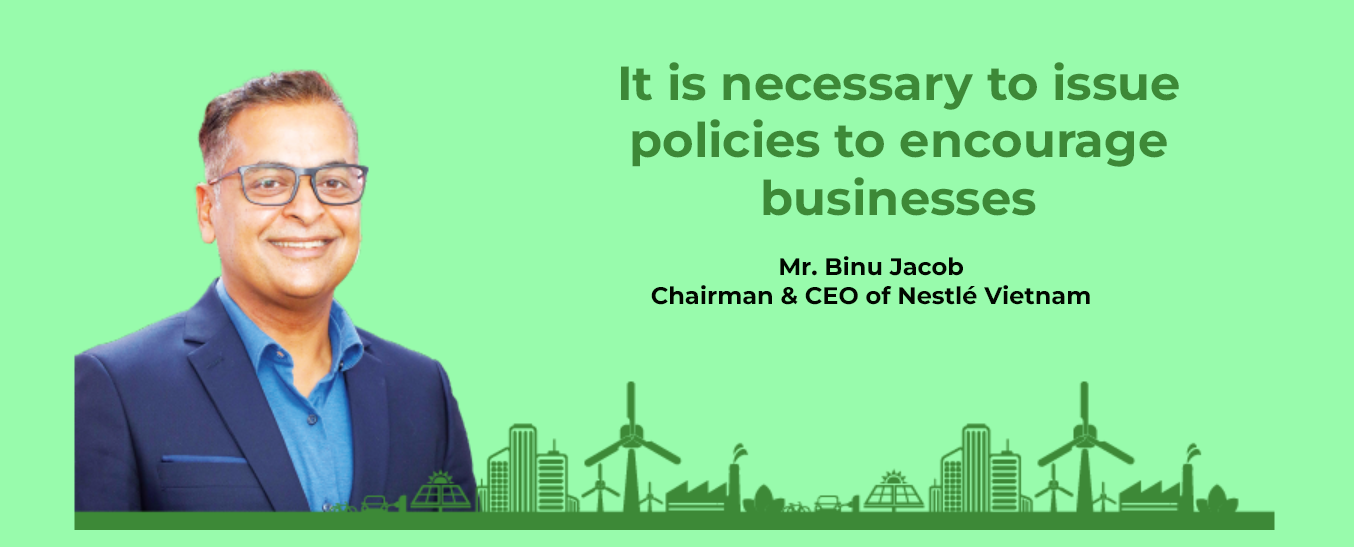 2021 is a very difficult year for us in all aspects: negative impact on consumer demand for some of our product categories, severe production restrictions during the implementation of 3T measures, labor shortages and distribution problems due to the blockades since 6/2021.
In these difficult times, our company had adapted and prioritized to solve 3 issues: 1) Caring for workers and their safety; 2) Ensuring business continuity; 3) Joining hands to support the government and the communities.
But one thing we have not changed is our focus on sustainable development. We regard this as something we cannot delay. Recently, Nestle Vietnam officially announced its plastic waste elimination pledge by 2025. Accordingly, 100% of our packaging can be recycled.
We believe that under difficult circumstances, the Government of Vietnam has done a good job balancing economic growth and controlling the pandemic, especially in the past few months with the announcement of a new policy "Living with the virus".
In the future, in order to quickly implement our efforts to pursue green and sustainable growth, the Government needs to issue and promote supporting policies to encourage businesses. The government also needs to strengthen the relationships between domestic enterprises and FDI by creating platforms in different economic sectors based on the principle of "creating common value" so that all stakeholders can be beneficial in long-term period.
Towards a zero-waste future, in favor of recycled plastic



At Nestlé and La Vie, we understand that sustainability is not enough, so we are embarking on a journey towards regenerating the environment. We aim to impact the environment and society positively, preserve ecosystems, regenerate and restore the environment for today and future generations.
La Vie is committed to taking the journey towards a zero-waste future, by supporting recycled plastic and reducing the use of virgin plastic in product packaging, as a solution to help reduce plastic emissions into the environment.
Although we were affected by the pandemic for the whole of 2021, we have launched the first natural mineral water product using bottles made from high-quality recycled plastic. amount of food contact. At the same time, we are continuing to expand this initiative to support the circular economy in Vietnam and to turn post-consumer packaging into a resource.
In 2019, the company introduced La Vie glass bottles and cooperated with distributors, restaurants, and hotels to collect bottles. In 2018, La Vie was the first enterprise in the water industry in Vietnam to stop using bottle cap shrink wrap because it is an unnecessary plastic part which cannot be collected and recycled. Almost all La Vie products are now fully recyclable.
It is necessary to leave a legacy of nature for the next generation

We need to take action now to protect nature and the environment and balance the interests of the present and the future. We develop the economy but need to leave the legacy of nature for the next generation. To do this, it is very necessary to transition to renewable and clean energy.
As one of the countries most affected by climate change, Vietnam always tries to do its best to develop in a "green" direction, and respond to climate change in a sustainable and stable manner. But in this transition process, Vietnam is lack experience compared to other countries.
Currently, we are installing more than 720 rooftop solar power projects in Vietnam. Up to now, 30 projects have reached commercial operation. However, there are many difficulties in implementing these projects. Businesses' comprehension of solar power is limited. They are doubting when a foreign investor brings equipment, panels, and installs the solar system for them. We can invest 100% in the construction and sell electricity generated from the system at discounted prices compared to that of EVN.
The second difficulty is that completing the documents and procedures to sign the contract also takes a long time. Since the duration of the rooftop solar power project lasts up to 20 years, the business and we have a number of obligations to sign. But this also takes longer than usual, because the legal proof of the factory is sometimes no longer in the hands of the business…
The last thing I want to share is that, currently, some people worry that solar panels will cause pollution. But I can assure you that the panels are also recyclable by professional organizations. The lifespan of this product is also very long, so let's boldly approach solar power to protect nature.
The enterprise supports and commits to pursuing a sustainable development


Covid-19 has had an unprecedented impact, but Vietnam's economy is gradually recovering to regain its growth momentum by 2022. The government has also made strong commitments to sustainable development towards net zero emissions by 2050, and end deforestation by 2030.
Vietnam is a country with great potential for renewable energy, including hydroelectricity, wind power, solar power, and biomass energy. Vietnam also continues to be an attractive destination for FDI. Along with their contributions to economic growth, FDI enterprises are also pioneers in implementing the sustainable development agenda and sharing experiences with the business community.
We are delighted that the Vietnamese Government has made strong commitments to sustainable development, including creating favorable conditions for FDI enterprises to implement their initiatives. As an FDI enterprise, Heineken Vietnam has always supported this strategy through knowledge transfer, professional experience as well as technical support.
We also hope that the Government will develop the relevant legal framework in a sustainable way and in line with business practices. These include policies to encourage the use of renewable energy (direct electricity purchase and sale mechanism (DPPA), rooftop solar power, and other renewable energy sources). We also expect the recycling and waste collection industry to be further invested and developed, creating infrastructure for circular economy development.
For long-term investments in sustainability, businesses need a long-term commitment and sufficient resources to pursue a sustainable development strategy while supporting Vietnam's agenda. We also expect a synchronous infrastructure system and available resources in the market such as renewable energy solutions, waste management/recycling solutions, wastewater treatment, etc. Along with those are policies that support sustainable development, for example, DPPA direct electricity purchase and sale mechanism, and regulations on the reuse of treated water.
Technology for people, kindness for the world


This is the first time OPPO has entered the Top 50 typical FDI enterprises in promoting green growth and sustainable development, right on the occasion of the 9th anniversary of OPPO's establishment in the Vietnam market (March 27, 2013 – 2020). March 27, 2022). The award is the clearest demonstration of the right development direction that OPPO has built over the past 9 years, the spirit and philosophy of "Technology for people, Kindness for the world" that the company always maintains.
In February 2022, OPPO released the "OPPO Sustainability Report 2021" which outlines the company's actions in promoting green and eco-friendly growth. Specifically: OPPO is committed to the internationally recognized "3R + 1D" principle of packaging and adheres to reducing packaging weight (Reduce), reusing recycled materials (Reuse), using recyclable materials and biodegradable materials in its packaging (Degradable).
Also for the currently irreplaceable plastic material, OPPO chose to use a biodegradable polylactic acid material. Currently, about 45% of its smartphone packaging is made of recycled fibers, reducing the use of raw materials.
To increase product durability, OPPO has introduced its self-developed Battery Health Engine (Battery Health Engine) which doubles the life of the battery. This technology helps batteries operate at 80% of their original capacity after 1,600 charge cycles, double the current industry standard of 800 cycles.
Efforts to use clean energy



Over the past 15 years, Kumho has grown thanks to the companionship of many Vietnamese customers.
Growing tremendously in Vietnam, we always want to deliver a message to the Vietnamese people that the Kumho tire is a product made in Vietnam, created by Vietnamese hands, brains, and efforts.
With an abundant source of natural rubber, increased demand for means of transportation, low labor costs, and a stable investment environment, Vietnam has been attracting many large tire manufacturers around the world to build factories and expand investment.
Our group has just decided to pour more than 300 million USD to expand investment, and increase the capacity of the factory in Vietnam, the funding for the project implementation will start from the third quarter of 2021 to the first quarter of 2023, in which a part of the building will be added to the vacant land on the existing factory premises.
With the above capital, it is expected that this tire factory located in Binh Duong will double its production capacity by 2023. After completing the expansion in Vietnam, Kumho Tire is forecast to produce at least 9.3 million tires per year at this factory.
We are also deeply aware that production must be environmentally sustainable, so Kumho is trying to transition to clean energy for the factory, while always improving the understanding of workers. on saving energy, protecting water sources, and nature.
In addition, Kumho is also in the process of accelerating research to find more green and environmentally friendly production materials.
Operate the plant with minimal impact on the environment


In 2020, 2021, despite being affected by Covid-19, Intel still recorded an export turnover of over 13.1 billion USD per year, accounting for nearly 70% of the total export value of Saigon Hi-Tech Park. Last year, Intel Corporation announced an additional investment of 475 million USD, bringing the total investment capital in Vietnam to more than 1.5 billion USD. Intel's capital increase also shows Intel's confidence in the domestic workforce as well as the stable investment environment of Vietnam.
Along with promoting investment and production, over the years, we have always focused on green and sustainable production in Vietnam. Since 2012, when it first entered Vietnam, Intel Corporation has invested in rooftop solar power systems. At that time, it was Intel's first and only solar power system in Asia and the sixth largest of Intel's 15 solar power systems globally.
Investing in green energy is an important step for Intel Corporation in its global development strategy to minimize the impact of climate change and fulfill its commitment to operate the plant with minimal impact on the environment.
With such a solar system in the factories, each year, Intel can save costs and reduce carbon emissions.
In fact, when investing in a rooftop solar system, leaders of Intel Corporation understood that solar power at that time would be more expensive than the electricity they were using. However, through this project, Intel wants to raise the awareness of employees and the community about protecting the environment and nature. Using clean energy is the most practical and effective direction we can take right now.
Pay attention to garbage electricity



Receiving an interview request from VnEconomy yesterday, I spent a lot of time thinking about your interesting question: "what will the future of waste electricity in Vietnam look like in the next 10 years?"
From the reality of working at Soc Son Garbage Power Plant Project, the second-largest plant in the world that we are building and completing, I think, in the future, garbage electricity will become quite popular. These projects will gradually become the optimal choice for big cities like Hanoi, Ho Chi Minh City, or even rural areas using this technology on a smaller scale.
As you know, for many years now, Hanoi has faced many difficulties when the landfills and waste treatment facilities have run out and can no longer contain garbage. This landfill also causes many environmental consequences. We can't expand the landfill forever due to land shortages. Therefore, burning garbage and generating electricity are very necessary.
Our Soc Son Waste Power Plant project has a capacity of 4,000 tons of dry waste (equivalent to nearly 5,500 tons of wet waste) per day, but even if we operate at full capacity, we still have not burned all of our waste. In the city, about 30% of the waste still has to be disposed of in the traditional way every day.
I hope that, in the coming period, the licensing of clean energy and renewable energy projects will be faster. I believe that local leaders will choose garbage electricity to solve the pollution problem for their locality.
Source: https://vneconomy.vn/cung-hanh-dong-de-giu-mau-xanh-cho-tuong-lai.htm?zarsrc=30&utm_source=zalo&utm_medium=zalo&utm_campaign=zalo&gidzl=DhG052306qmrgW8Q8DSII3Qg2Xuvs1GT8VzOIJM3GnjreLv8R8T06twX2Kzjq1aQVATK734XH2XW9i4PGG