Since 1986, a series of economic and political reforms have transformed Vietnam into one of Asia's most dynamic and fastest-growing emerging markets. By 2045, Vietnam is expected to have a 46 percent share of the world's renewable energy capacity, with a total installed capacity of 276 GW (Draft PDP8). Vietnam has significant renewable energy potential, particularly in wind power, and has taken significant steps in recent years to realize this. Long-duration energy storage also has a lot of promise in a world where wind and solar power are dominating new power plant additions and gradually displacing other sources of electricity. Because wind and solar only produce at specific times, they require a complementary technology to help fill in the gaps.
These crucial topics were covered in Neoventure's "Vietnam Solar & Storage – Growth, Trend, and Forecast" webinar on Thursday, July 22. More than 160 people registered for the webinar.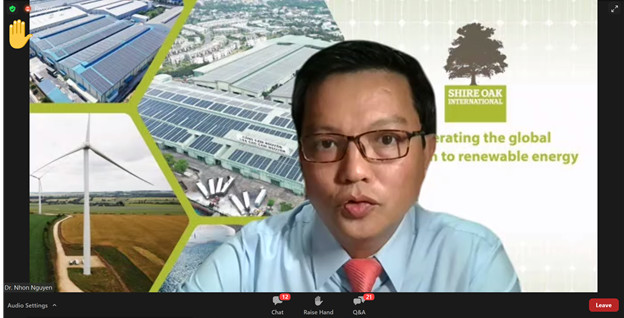 Dr. Nhon Nguyen, Chief Strategy Officer, a representative of Shire Oak International, participated in the event as a panelist along with other speakers such as Net Le – Partner, LNT & Partners; Li Jiduo – Global Technical Support Director – Solis; Constantinos Peonides – Executive Director / Commercial Director – Alectris; and Bence Szegedi – Vice President – SUSI Partners. With the following details, the speakers shared their valuable perspectives and knowledge on the Vietnam solar + energy storage market.
– The potential, current state, and future prospects of solar energy development in Vietnam
– Incentives for solar energy development after 2021 via DPPA, Corporate PPA, and auction mechanism
– Analysis of the solar + energy storage market in Vietnam
– Regulatory, policy, and incentive frameworks What are the missing pieces for the market's development?
– Opportunities vs. challenges: selecting an energy storage system, financing it, putting it in place, operating and maintaining it
– When will energy storage be available in Vietnam? And how far are the projects from becoming profitable?
– Mainstream solar+ energy storage projects' innovative business models, technological breakthroughs, and system intelligence
According to Dr. Nhon Nguyen, the following factors should be considered for the development of solar and storage in Vietnam: current legal framework from MoIT and off-takers EVN; current renewable law that is still under development. There are numerous energy storage options to consider, including pump/hydro storage and battery energy storage systems. These are the two major concepts that EVN is analyzing and considering. Dr. Nhon emphasized that Vietnam has a large hydroelectric resource and has been working on pump storage projects. As a result, we must consider hydro storage, which is appropriate for the country's situation, while other storage technologies require further development in order to cope with the grid system's infrastructure. To bring the battery storage system to market, we must carefully examine how it will adapt to the current infrastructure.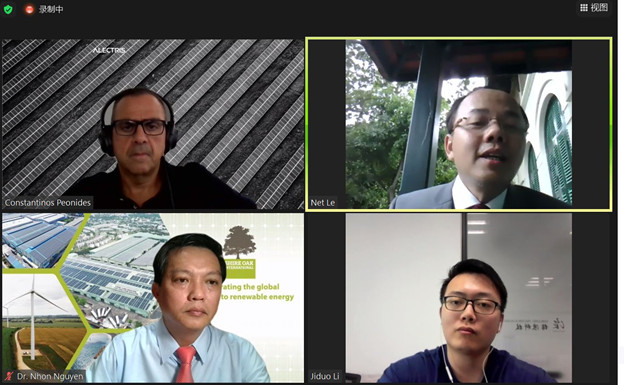 All panelists agreed that storage systems have enormous potential, and there are incentives to promote storage systems, such as the CDC program for developers. For project bankability, we require consistent cashflow, curtailment, and a grid system, all of which must be developed by the government. Until we find solutions to the national grid problem and curtailment, storage systems come to the rescue at a low cost. We are looking forward to innovative financing systems that will assist power developers in storing power, as well as smart grid systems that will moderate the grid discharge system. Furthermore, the government must develop a DPPA program so that developers can find big clients and sign long-term contracts, allowing them to achieve bankability.